---
Guide: How to Install Refog Personal Monitor for Mac
hudracheapa.ga A settings window will show up right after the installation is complete. Memorize the hot key combination that launches Refog application: You can change the combination by clicking on corresponding buttons in the settings window.
Installation is complete. You can quit Refog application and delete installation disk image file.
Refog Personal Monitor for Mac. REFOG Personal Monitor is the best solution I' ve found to track my kids computer usage. Basically anything they can do on the . How to Install Refog Mac Personal Monitor step-by-step. Installation, invisibility and email delivery settings.
Additionally you can set up delivery of logs by email. Switch to Delivery tab and enable Automatically send logs by email option. Type in your email address and password. Settings for most popular email services will fill out automatically.
Click Next and wait for test email to be sent. Home Keylogger Keylogger keeps track of all typed text. Without being monitored, it is often the case that employees get carried away with excessive web surfing, shopping and other personal tasks. With screenshot history, it is always possible to gather evidence if an employee is wasting the company's time.
OS Support
Multiple monitor configurations are supported! No need to use a monitored Mac to know what's going on.
Recorded logs and screen shots can be automatically sent right to your email inbox. Use any other computer Mac or PC or email capable mobile to view logs from anywhere.
Refog Personal Monitor - Review
You may not want to disclose the act of monitoring, so Refog can work in a stealth mode, making it invisible. It cannot be found in the Applications folder.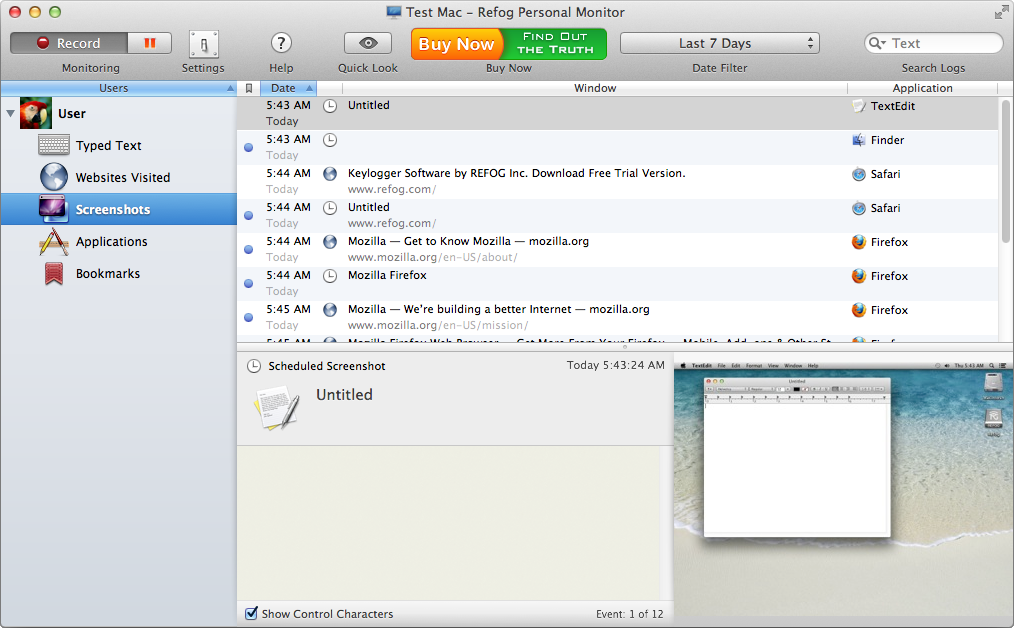 When required, the program can be revealed using a customizable hot key combination. In addition, you can protect Refog with a password to restrict log access and program uninstallation.
Refog is able to record all programs launched on your Mac, so it is possible to establish if your kid is playing games instead of doing homework, an employee is wasting time e. Home Keylogger Keylogger keeps track of all typed text. Free trial!
Refog Keylogger Personal Monitor Review
Personal Monitor Record PC users's actions, grab screenshots. Employee Monitor Protect your company's assets with employee monitoring. Terminal Monitor Track employee activities on Terminal Server.